We are thrilled to announce that HSBC, a global banking and financial services institution, has been named the official sponsor of the highly anticipated Notts County Foundation Gala Dinner Fundraiser. Set to take place on the 6th of October, this remarkable event promises to be an evening of entertainment, community engagement, and meaningful support for our mental health programmes.
HSBC to sponsor gala dinner on 6th October

More sponsorship opportunities still available

Partnership for the future, thanks to recent HSBC workshop
The Gala Dinner Fundraiser is a testament to the power of collaboration between local organisations and businesses, coming together to create a positive impact on the community. With HSBC stepping in as an official sponsor, the event is poised to reach new heights in terms of reach, engagement, and, most importantly, the funds raised for the Foundation's initiatives. This is an extension of the support that HSBC showed to the Foundation, which began when they delivered a finance workshop to staff on our recent Staff Engagement Day in July.
HSBC's involvement as the official sponsor of the Gala Dinner Fundraiser underlines its commitment to making a meaningful difference in the communities it serves. With a global presence and a local heart, HSBC has long recognised the importance of supporting initiatives that contribute to the betterment of society. By partnering with Notts County Foundation, HSBC continues to exemplify its values and dedication to corporate social responsibility.
"We are excited to be part of the Notts County Foundation Gala Dinner Fundraiser," says David Tomlinson, Local Director at HSBC. "At HSBC, we believe in the power of collaboration and giving back to the communities we are a part of. Supporting Notts County Foundation aligns with our commitment to creating a lasting, positive impact and promoting inclusivity within those communities; we are excited and proud to be involved."
The Gala Dinner Fundraiser, with special guests and a performance from Our Dementia Choir, promises attendees an unforgettable evening filled with entertainment, inspiration, and the opportunity to contribute to the betterment of the community. By attending the event, guests not only show their support for the Foundation's initiatives but also become part of a collective effort to create lasting change.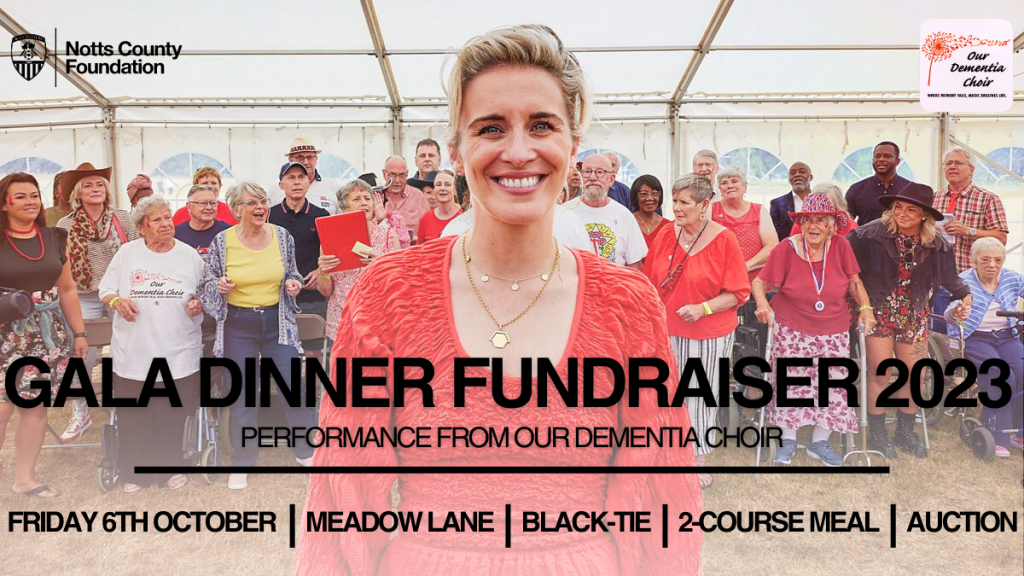 Diane Jackson, Chair of Trustees at Notts County Foundation spoke on the partnership: "We are absolutely thrilled to have HSBC on board as an official sponsor of the Gala Dinner Fundraiser. This partnership represents a significant step towards realising our goals of community empowerment and positive change. HSBC's commitment to social responsibility resonates deeply with our mission, and their support energises us as we prepare for an inspiring evening of togetherness and impact. We eagerly look forward to the 6th of October and the incredible moments this partnership will help us achieve."
With HSBC as the official sponsor, the event is set to make an even more significant mark, uniting the community and fostering a spirit of generosity and collaboration. For more information about Notts County Foundation click here, and to secure your place on the night click here. Join HSBC and the Foundation in making a difference and celebrating the power of community on the 6th of October. For information on further sponsorship opportunities, contact sonali.dave@nottscountyfoundation.org.uk.