Notts County Foundation has teamed up with Alive and Kicking to create a unique football, designed in Nottingham and produced ethically in Africa.
Custom football designed by Lexi, aged 10 from Nottinghamshire

Creates jobs in Africa

50% of proceeds go to your local community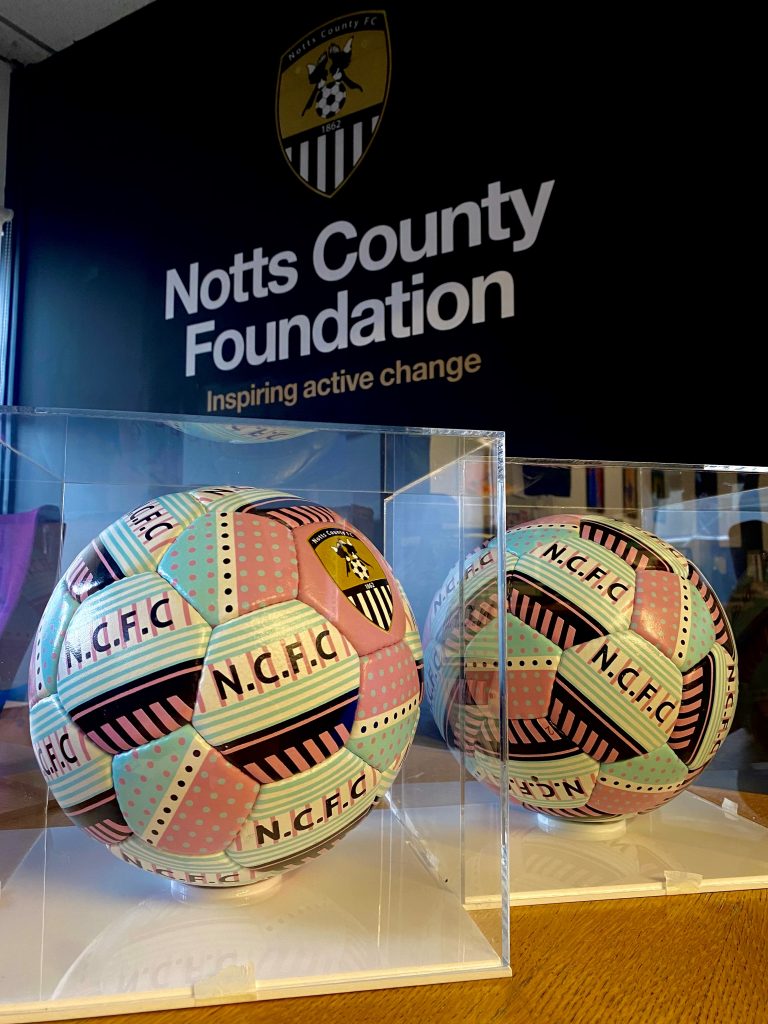 Designed by Lexi, a 10-year-old Notts County fan, the limited-edition football was designed to be as colourful as possible, and held a personal connection to our club that she hoped many other fans would share. She took her inspiration from the vibrant Notts County away shirts that she has worn when enjoying match days at Meadow Lane over the past two years, particularly her lucky purple/lilac shirt from this season. Notts County Foundation partnered with Alive and Kicking to expand our local support to a global scale and to raise awareness of wider societal issues.
Alive and Kicking is a charity that aims to improve the lives of young people in Africa through sport. The charity produces high-quality footballs, netballs, and volleyballs in ethical factories in Ghana, Kenya, and Zambia, providing sustainable employment opportunities and promoting economic development in these countries.
Notts County Foundation has a strong commitment to empowering our participants, promoting physical and mental wellbeing in the local community, and using sport as a tool for social change. The Foundation works with young people in the local area, delivering a range of educational and sporting activities designed to promote physical and mental health.
Notts County Foundation and Alive and Kicking have worked closely together to create a football that is designed in Nottingham, incorporating the iconic colours and symbols of the local area. The footballs are then produced ethically in Alive and Kicking's factories in Africa, using sustainable production practices and providing fair employment opportunities for local people.
The football is available for purchase through the Alive and Kicking website, with all profits going towards supporting the work of the two organisations. The Foundation has been donated two of the footballs that will be used in Foundation activities, including tournaments, and community events.
In a statement following the launch of the partnership, Sam Crawford, Chief Financial Officer at Notts County Foundation said: "We are delighted to have partnered with Alive and Kicking to produce this unique football, that empowers communities in Africa by creating access to jobs, play and vital health education. Africa is special to me due to travelling there frequently on volunteer expeditions in my youth, so I understand the impact partnerships like this can have. We look forward to using the footballs in our awareness campaigns and to promoting this important partnership with our supporters and partners."
Overall, the partnership between the Notts County Foundation and Alive and Kicking is an exciting development, which demonstrates the power that sport can have to promote physical activity and social change, whilst also supporting sustainable production practices and raising awareness of global issues. We wish for this partnership to be a model for how we can work together to create a more sustainable and equitable future for all.
To purchase a football, visit Alive and Kicking's website here.