British wrestling promotion Wrestle Carnival has successfully hosted its first show from Nottingham's Portland Centre – attracting over 200 wresting fans on Sunday 1st August 2021.
The promotion's inaugural spectacle – aptly named 'Curtain Call' – featured eight action-packed matches, showcasing an exciting mix of male and female wrestling talent from the UK and Ireland. Operated and maintained by Notts County Foundation, the Portland Centre's sports hall was transformed into a 250-person venue, complete with a 16x16ft ring.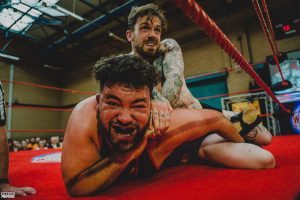 Gary Ward, Owner and Promoter of Wrestle Carnival, said: "What an incredible afternoon. Everyone really gave their all and the fans looked to have an absolute blast. We have really missed fans being at live events and today, seeing people forget about the last 18 months for a few hours and have fun, is something I won't forget or take for granted again.
"Roll on Sunday 12th September so we can do it all over again at Nottingham's Portland Centre!"
Venetia Sanders, Head of Commercial at Notts County Foundation, said: "We are delighted that the Portland Centre was selected to host Wrestle Carnival's first show. Although the pandemic prevented the event from happening last year, it's been well worth the wait and has shown the multitude of uses that the Portland Centre offers.
"I very much look forward to welcoming Gary and Wrestle Carnival back for future dates and wish the promotion every success."
Wrestle Carnival has announced three more events in Nottinghamshire throughout the remainder of the year, including two further dates at the Portland Centre and one show at the North Notts Community Arena in Worksop.
For more information about all of Wrestle Carnival's upcoming events, please visit https://www.thewrestlecarnival.com/events or follow the promotion on Twitter.
Pictures by Oli Sandler / Ringside Perspective