The arrival of July has seen the start of our first NCS (National Citizen Service) programme of 2021.
NCS is specifically designed to provide 16 and 17-year-olds with a clearer understanding of the opportunities ahead of them, while also boosting self-confidence and supporting the transition into adulthood.
The first phase of this year's programme – called 'BE EPIC' – is focussed on encouraging young people to meet and interact with new people from their local area, as well as push themselves out of their comfort zone while taking on an array of teambuilding challenges.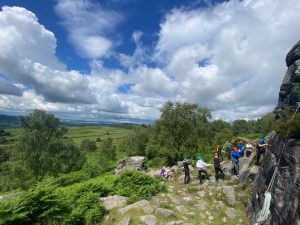 Phase two, 'LIVE LIFE', aims to provide a variety of life skills designed to support participants as the get older, including workshops on political debates, enterprise challenges with local businesses and mental health and wellbeing sessions.
Lastly, the third phase of NCS is called 'DO GOOD', in which participants are required to prepare social action volunteering projects that will benefit their local communities, partnering with local charities, district councils and support groups in the process. The idea is that the skills and knowledge obtained during the previous two phases will help young people turn their passions into action – whether that be volunteering at a food bank, providing food for those less fortunate or even renovating a space in need of some TLC!
Currently, we offer NCS programmes in Alfreton, Ashfield, Mansfield and Worksop. If you would like some more information about our NCS programmes, please visit https://bit.ly/2UvuY9q.
For more information about our upcoming cohorts, please email ncs@nottscountyfoundation.org.uk.