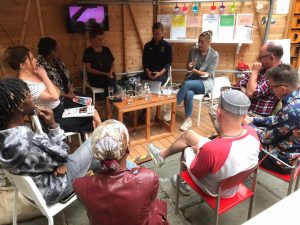 On Monday 2 August 2021, Notts County Foundation's Head of Business Development Sam Crawford took part in the S.H.E.D's (Social Higher Education Depot) panel discussion about the importance of youth empowerment and providing young people with a voice of their own.
Working in partnership with Nottingham's National Justice Museum, S.H.E.D is a unique space for cultural exploration, artists and creative activities, as well as a site for people to kickstart important conversations about justice, law and protest.
Sam Crawford, Head of Business Development at Notts County Foundation, said: "It was a privilege to be a part of S.H.E.D's panel discussing such important subjects. Young people are the future and now, as much as ever, it's vitally important to ensure that they feel heard and that their opinions matter. S.H.E.D is a truly fantastic project and would urge everyone to take the time to learn about the invaluable work that Rhiannon and the rest of the team are doing."
Dr. Rhiannon Jones, Creative Director of S.H.E.D, said: "We thoroughly enjoyed bringing S.H.E.D to the National Justice Museum and hearing visitor's thoughts and perspectives. Having representatives from local organisations, such as Notts County Foundation, partake in our sessions not only offers an opportunity to listen to other people's opinions on some of the world's most poignant issues, but also demonstrates the impact that collaboration between likeminded groups can make."
For more information about S.H.E.D, visit https://weareshed.co.uk/ or email Dr. Rhiannon Jones on r.jones3@derby.ac.uk.
(Pictures by Ollie Smith / Michael Pinchbeck)