In a remarkable show of resilience, Nikki Farnsworth, a participant from the Cancer and Rehabilitation Exercise (CARE) programme at Notts County Foundation recently completed the Three Peaks Challenge alongside her family to raise funds for our charity. This inspiring story of triumph over adversity not only showcases the incredible strength of individuals but also highlights the vital role that projects like CARE have on the lives of those affected by cancer.
Raised £2,715 for NCF's CARE programme to support others in the future

Supported by CARE throughout her cancer recovery

Smashed initial target of £2,000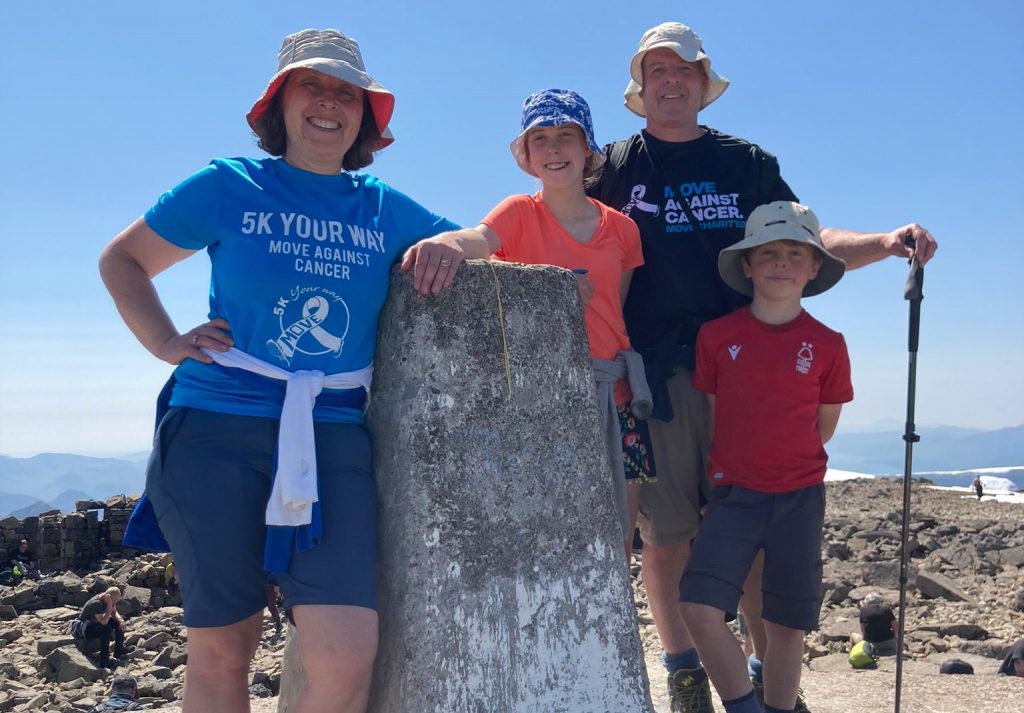 Nikki completed the challenge alongside her husband Rick, 13-year-old daughter Emma and 8-year-old son Jamie, making this a real accomplishment for the whole family, and what was certainly a bonding moment for them. They were also joined by friends for the Scafell Pike and Snowdon climbs, which certainly will have spurred them on to the top.
Nikki outlined her appreciation for the group: "The CARE classes at The Portland Centre have provided massive support to me on my journey through treatment and afterwards. It has been great to meet people with similar experiences in a safe environment where everyone understands what you are going through. I firmly believe that a determination to exercise really helped me to cope with my treatment so to find this was perfect! So now I would really like to give something back to them."
This heartfelt quote encapsulates the essence of CARE, a program designed to provide physical and emotional support to individuals battling cancer. The program operates under the umbrella of Notts County Foundation, the charitable arm of Notts County Football Club, and has proven to be a lifeline for many facing the challenges of cancer treatment and recovery.
The Three Peaks Challenge, which includes scaling the highest peaks in Scotland (Ben Nevis), England (Scafell Pike), and Wales (Snowdon), is no small feat. It requires unwavering determination, strength, and a supportive network, all which Nikki and her family had in abundance. Together with her family, they embarked on the rugged terrains and unpredictable weather conditions, symbolizing the unity and resilience that cancer survivors and their families often display.
Upon completing the challenge, our remarkable Nikki not only achieved a personal victory but also exceeded her fundraising goal, raising £2,715. This remarkable sum will be instrumental in supporting the vital work of Notts County Foundation, enabling them to continue offering valuable programmes like CARE to those in need.
Health Manager Josh Stevenson expressed his pride and gratitude for the extraordinary efforts of Nikki and her family: "We are immensely proud of Nikki's achievement and grateful for the funds raised," he said. "Her dedication and commitment not only exemplify the spirit of our programme but also ensure that we can continue to provide crucial support to individuals and families facing the challenges of cancer in the future."
As the CARE programme at Notts County Foundation continues its essential work, stories like this one remind us that hope, resilience, and the desire to give back can make a world of difference in the lives of cancer survivors and their families. For more information, contact josh.stevenson@nottscountyfoundation.org.uk