Our CEO, Ian Boyd talks to the EFDN about our recen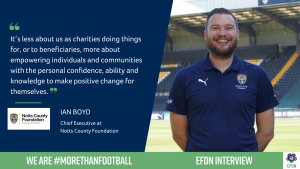 t rebrand as Notts County Foundation and our Covid 19 response.
What is a typical day in your role like?
There is obviously a pre-Covid role and a post-Covid role. In my role as Chief Executive, I very much try to raise the profile, find partners and funding that allows the organisation to prosper and identify new opportunities.
We are based at Meadow Lane and also at the Portland Centre, which is just four minutes walk from the offices in the stadium. I spent a lot of my time there at Portland. We have over 65 staff who work for the foundation. I try to be present and available for my team where I can. Some of this is about visiting projects, another part of the role is about planning, or creative brainstorming, bringing together strategic conversations.
I want to show that I am there, let staff know that I am interested in their work but also focus on future developments. I just celebrated my two years anniversary and I feel an awful lot of life has happened during this time! Our club went through relegation out of the football league for the first time, we went into and out of administration, and through another sale of the club to new ownership; and this was all still pre-pandemic! There was a lot of restructuring, refreshing and looking at the culture of the organisation that happened during this time. The organisation has existed for more than 30 years and a lot of positive work has happened in that time but it's important that we keep fresh and up to date.
What do you love the most about working for the foundation?
When I was at University in Birmingham, I studied Youth, Community and Sports. I am very interested in using sport as a hook to bring people together. I always think of sport as a door that you can open, which can then lead you to other opportunities such as employment, health, volunteering or education. Its the wide nature of the role that I really like. I have spent all of my career, working for over 20 years, in different charity roles and this job is bringing all my interests, training and passions together in one place.
I am big into history and Notts County has a lot of proud history. I really like being part of something so old. It is still the oldest professional football club in the world. Similar to the club, our charitable organisation is one of the oldest in the country. That feels really good in terms of impact and trying to be part of this long positive history.
Why did you decide to make a rebrand and become Notts County Foundation?
The time was right for a refresh. In my role, I speak a lot about culture, both internal and external culture. There was a lot of trust and respect for us built up as a charity before I joined. But some of our partners and beneficiaries were asking "What is it you really do?" and saying "you do more than just play football!" I like the EFDN slogan #morethanfootball because as well as going into schools, we also run cancer rehabilitation projects, mental health projects, we go into prisons, run education services, work with older folks, as well as operating a leisure centre! The list goes on… there is so much to what we do. In the 20 projects we deliver, physical activity is the key. Football is important to this work and is often the initial hook, but in reality, playing football is only a very small part of our wider work.
The feedback we received was that our name did not sum up everything we did. Instead of spending our time on explaining to people that we do more than football, we decided to refresh our image. It was an 18-month progress, and the pandemic did get in the way, otherwise we would have announced it back in the summer. As an organisation we went into listening mode, towards trustees, partners, staff, funders and of course beneficiaries. We asked them questions like "What do you think we do?" and "how do you perceive our image?"
We used all of the feedback in designing and planning the rebrand. I really like the name foundation because of the basic definition of the word foundation. It's about helping people within their lives, building foundational blocks, and empowering and supporting them to make positive choices in their futures.
I was a really good process to go through and I recommend it to others. You get to know who your friends are. I was a useful process to deepen relationships with our partners and participants; they felt respected and trusted and helped us to set the new agenda.
Did you face any challenges throughout the process?
There weren't really any challenging moments around conflict, or anything like that. People fairly quickly accepted that the time was right for a refresh. However, one important point I would make is that when you start asking true open questions, you don't know what type of answers you are going to get back! Truly listening to people and asking them for their opinions means potentially not knowing where the conversation will lead and perhaps having to give back some of your own power; and of course you do not know how others will use it! As an organisation it's important to remember what your overall purpose and vision is; this helps to stop any mission drift. As our process was conducted in a respectful and trustful way, the participants really engaged as they were able to see a benefit for themselves too, it was all round a very useful process.
Notts County Foundation. Inspiring active change. – Why did you choose this slogan?
We spend a lot of time on the slogan. Inspiring active change is the slogan we came up with. We went through several meetings spending a good couple of hours writing down taglines and expressions. We have used a very good consultant who supported us throughout the process and she brought in outside thinking and experiences from working in city businesses and the financial sector too, not just the footballing bubble. I recommend utilising someone with an outside perspective to help facilitate this process, that way you are able to see outside of your own box and move away from any self-fulfilling prophecies.
Out of ten original strapline ideas, we chose two or three and took them back out to staff and beneficiaries to start gauging feedback and voting on their favourite. The reason why we went with inspiring active change is because it has numerous different positive connotations. Looking at active change you might focus on physical activity, but active change could also be about volunteering and community development, helping your neighbour, mentoring, voting, campaigning, inspiring people, to do more. We talked around the importance of empowering people as well. Some of the strongest feedback we originally received through our consultation was around the fact that many people described our work as being very inspirational. I think this is a very positive word – empowering. In my mind, we are not forcing something onto other people… more giving people tools, ideas and confidence in order to make change in their own lives. If we could perhaps give examples, role model different types of positive behaviour and attitudes, then partners and beneficiaries can take our example but adapt it for their own situations. I am not telling anyone to become a footballer, or a community worker, but if they are interested in those areas then we do have plenty of positive examples that and we can share, providing advice and guidance. It's less about us as charities or local authorities doing things for, or to beneficiaries, more about empowering individuals and communities with the personal confidence, ability and knowledge to make positive change for themselves.
What impact had the pandemic on the process and how do you implement the slogan now?
I think, the pandemic sped up the refreshing and restructuring process. Some staff left, others joined. A lot of the thought process started already, as a result of relegation, before we even knew what a pandemic looked like. Our mindset was already about change, refreshing culture, new ideas, being agile and creative and in March last year we were forced to use this mindset as a response to the pandemic. Had we not started this thought process back in 2019, I would say we would be a year behind where we are now in terms of planning, restructuring and new opportunities. I believe this head start we had created allowed us to be fairly agile in our thinking and decision making in 2020 which has very much helped us through the pandemic to date.
One of the effects of the pandemic is there has often been a levelling up or unifying element to it all; like a connecting element across the world. It lets us see effects and challenges that are true here in Nottingham but that may well be true else where in the country or world. Mental health seems to be a big challenge right now, coupled with appreciating the effects of keeping physically active. To keep people fit to not catch Covid, cancer or anything else in the first place, and then to support recovery if they do contract the virus. Allowing people to remain strong enough physically and mentally in order to survive everything that is going on. Our prime minister, Boris Johnson, caught COVID early on. He spoke of his weight as being a factor in his illness and the fact he experienced intensive care the way he did. During his recovery he spoke about physical activity, diet, lifestyle as being factors that people have to take it seriously in relation to covid. He spoke powerfully about the importance of physical activity and making that connection to positive mental health; I feel this was a strong message and one that I would like to see the government following up more with around further action and funding to support this vital work.
The third big challenge is around isolation and loneliness. For me is has been great to see so many examples of where communities come together to support their own. We as an organisation have delivered food parcels, PPE, implemented community projects where possible. To be able to support neighbours talking more to each other and volunteering and giving back to each other, for their own benefit, is a powerful part of the work.
What makes the role of clubs and their foundation's so important during this crisis?
I have been very proud of not just our own response, but also the response and activities that Nottingham Forest have delivered locally in our city, as well as the general football charity network up and down the county, as a result of this pandemic. I think in our community's moments of need, we all stood up, we did not back down when people needed us. And we collectively should be very proud of that. People are delivering food, people are delivering medicines, getting involved in vaccinations… so many different types of positive responses all over the country.
We have been trying to keep people engaged through the Portland Centre. We have recently launched some virtual fitness classes for the first time. The building is closed but we try to reach out to our local community members. Some of this may result in generating some funds for ourselves, but often its about keeping people engaged and active. Another initiative we've just launched is that we are renting out fitness equipment packages. For a reasonable deposit, people can rent fitness equipment or exercise machines from us and take them home to stay active. We are on our third national lockdown here in England, so over the past year we have developed a lot of virtual classroom content and online sessions to support parents with home schooling. Not something that was there from the beginning, this was all very new to everyone, so I'm proud of the role we've played in supporting parents and teachers with creating content; which is another way in which we can give back and serve our local community.
EFDN believes that Football is #More than Football. Why do you think your foundation is #morethanfootball?
It's very much in line with the rebrand to let people know that we are not just about playing football. Pre covid we would usually deliver 20 different community projects. For us, it's about our S.H.I.N.E. outcomes that stand for Sport, Health, Inclusion, NCS (a government youth programme here in the UK), and Education. Through these S.H.I.N.E. outcomes we support our local community. Whether it is about young or old people, fit or inactive people, supporters of football or people who do not particularly like football – we try to have an offer for everybody.
On top of all that we also run a Leisure Centre! What we try to do with our community development is about empowerment and right now we're currently trying to change the way we think and talk about ourselves in relation to the Portland Centre. It is less about describing ourselves as a traditional leisure centre, we want to be treated and perceived as a true community asset. A community hub, somewhere locals use whether for physical activity or mental health support, but also somewhere that can inspire opportunities for training and jobs. We want to work with the community and listen to people to know what they want and need. If we cannot help them directly that is why we have a wide network of partners, so we can still refer them on to other partner organisations for further support.
You can read the full interview on the EFDN Website here.