We are thrilled to announce the appointment of 13 new members of staff to support our growing presence across Nottingham and Nottinghamshire.
Based from the Portland Centre facility in the Meadows, Megan Collins, Nicolas Victory and Gemma Stapleton have joined as multipurpose attendants, Emma Shiels, Mia Humphreys, Maddie Knowles and Stefan Furgala have become our newest Coaches and Swim School Teachers, and Kyle Beekman will be responsible for the day-to-day management and maintenance of the Portland Centre.
Operating out of our Meadow Lane headquarters, Sufyaan Ali has been appointed as a Finance Assistant, Steven Grocock has joined as NCS (National Citizen Service) Officer, and Lauren Cotton has become the charity's new Sport and Inclusion Manager.
Sam Crawford, Head of Business Development at Notts County Foundation, said: "Everyone at Notts County Foundation is delighted and couldn't be prouder to welcome all of the new starters. Adding experienced, motivated and professional personnel to Notts County Foundation is something that's very important in order to continue to support and serve the local community as best as possible. I very much look forward to working alongside everyone."
Lauren Cotton, Sport & Inclusion Manager at Notts County Foundation, said: "I am really pleased to have joined Notts County Foundation at what is proving to be a really exciting period of growth and development for the charity. Using the benefits of sport to improve people's lives is something that I am incredibly passionate about, so it's great to be working alongside other people who are equally as invested in supporting the local community."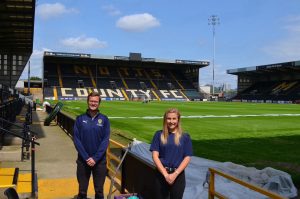 Sufyaan Ali, Finance Assistant at Notts County Foundation, said: "Notts County Foundation is a forward-thinking charity that puts the community's needs and wants at the heart of everything it does and offers. Having the opportunity to join such a people-focused organisation that aims to genuinely change people's lives for the better was something that I couldn't pass up and I look forward to working with the rest of the team to make a real difference."