Help Protect your Heart with Physical Exercise
The main priority for the Healthy Hearts programme is to deliver physical exercise sessions to participants who may be affected by a low-risk heart disease diagnosis. This could range from anyone who has had a long family history of heart disease to an early diagnosis of a condition which could lead to a heart condition. However, even though we prescribe physical exercise to reduce the chances of being diagnosed with any heart disease, we want to make sure that our participants feel that they are in safe environment, which is why we want to also focus on mental health and wellbeing within the programme. The project will also allow participants access to outdoor environments such as the canal side which will help boost holistic wellbeing.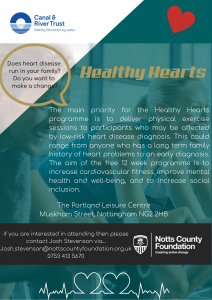 The impact of physical exercise can help to reduce the risk high blood pressure, a high cholesterol level or diabetes. Physical activity can help to improve these conditions and help protect your heart. If you already have coronary heart disease (if you get angina or have had a heart attack), physical activity can help protect your heart and help to reduce your risk of having further heart problems.
The project is free to access with 1 session per week and each cohort lasting for 12 weeks.
If you are interested in joining the Healthy Hearts programme and wanting to make a change then contact the Notts County Foundation Health team via…
Josh Stevenson
Josh.stevenson@nottscountyfoundation.org.uk
07534135670
Alex Flak
Alex.flak@nottscountyfoundation.org.uk
07503584642